Opmerking: Als je deze blog liever in het Nederlands leest, kan je deze link volgen.
Sinterklaas' birthday has passed, so that means the Christmas tree finally can be brought in and decorated. The Christmas music is playing all around and although for a lot of people this means a magical time, it can also be very stressful. Especially gift giving! 🎄🎁☃️
⁠
Don't worry, though, we are here to share some valuable tips to get you through the holidays unharmed. Below, you can find tips how TableFixr and DinnerGift can help you find the perfect gift, but also how to navigate the minefield of social obligations.
Tip 1: Get to know your victim
The key to the perfect gift, is to know who your victim is (don't worry, after reading this blog, they won't be your "victim" anymore).
What are their interests? Their likes, their political beliefs (even if it's just to stay clear from that subject at the dinner table). It's much easier to know what kind of restaurant or book they would like, or what kind of new experience they would enjoy, if you give this some thought. Also, find out what's on their bucket list and give it as a present! That way you can be sure it's an activity they like, but also provide them with new experiences.
As a user of TableFixr, you can add your favourite restaurants and the restaurants you would some day like to visit. Fill it up, and subtly let your secret Santa know where to find the list. At least that's one Christmas party you don't have to worry about.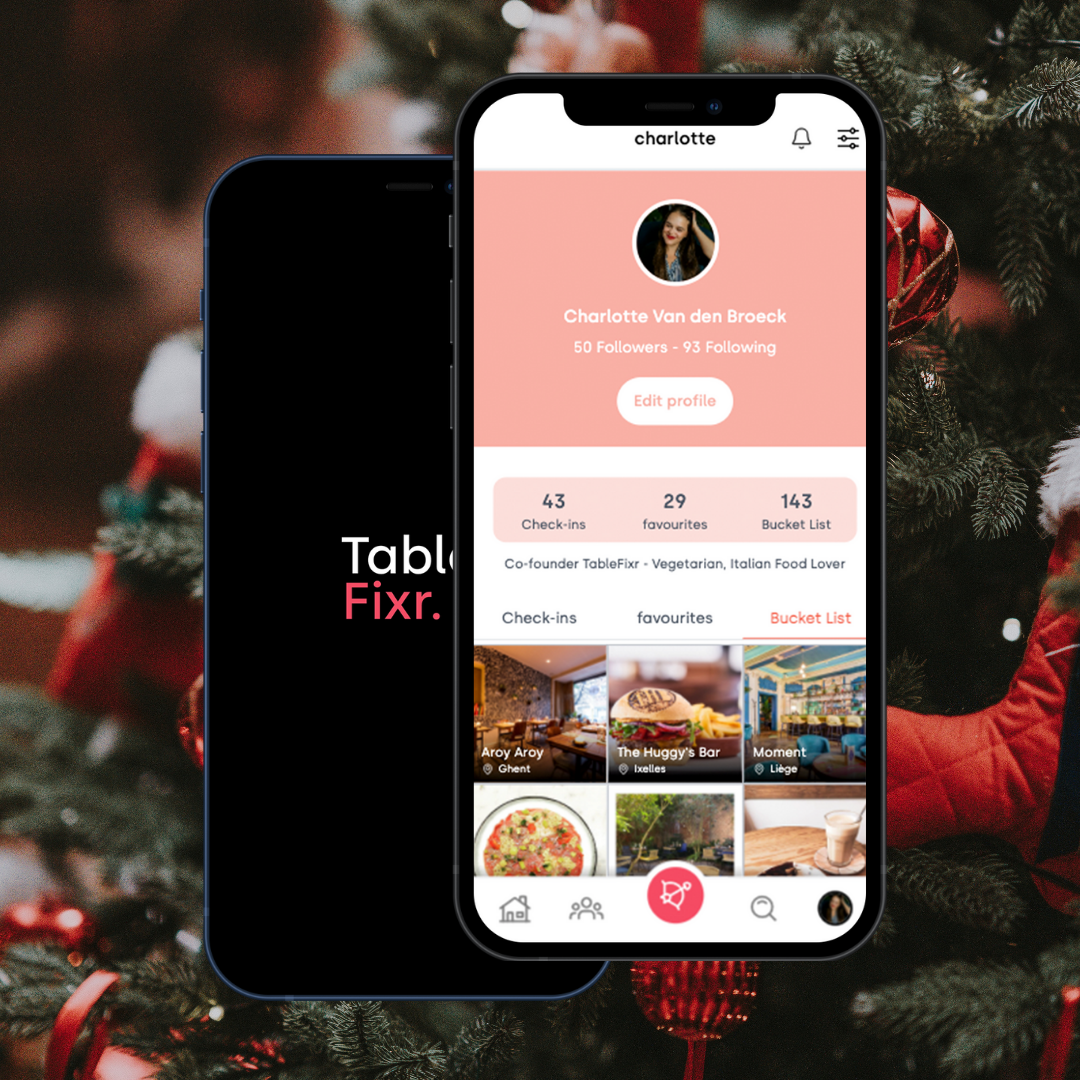 Tip 2: Back-up plan for unexpected gifts
This tip, we actually received from a DinnerGift client (sorry, J. I'm horrible at keeping secrets).
There's nothing as awkward as meeting up with a friend or family member around the holidays, and they bought you a present, but you didn't get one for them! So here is a great tip: buy a couple of gift vouchers for a certain amount (€20, €50, €100,...) and carry them around in your bag. If they give you an unexpected gift, you have one at the ready!
PS, if you have vouchers left after the holidays, you can still use them if your partner says there's no budget for dinner 😉 (see secret tip number 6).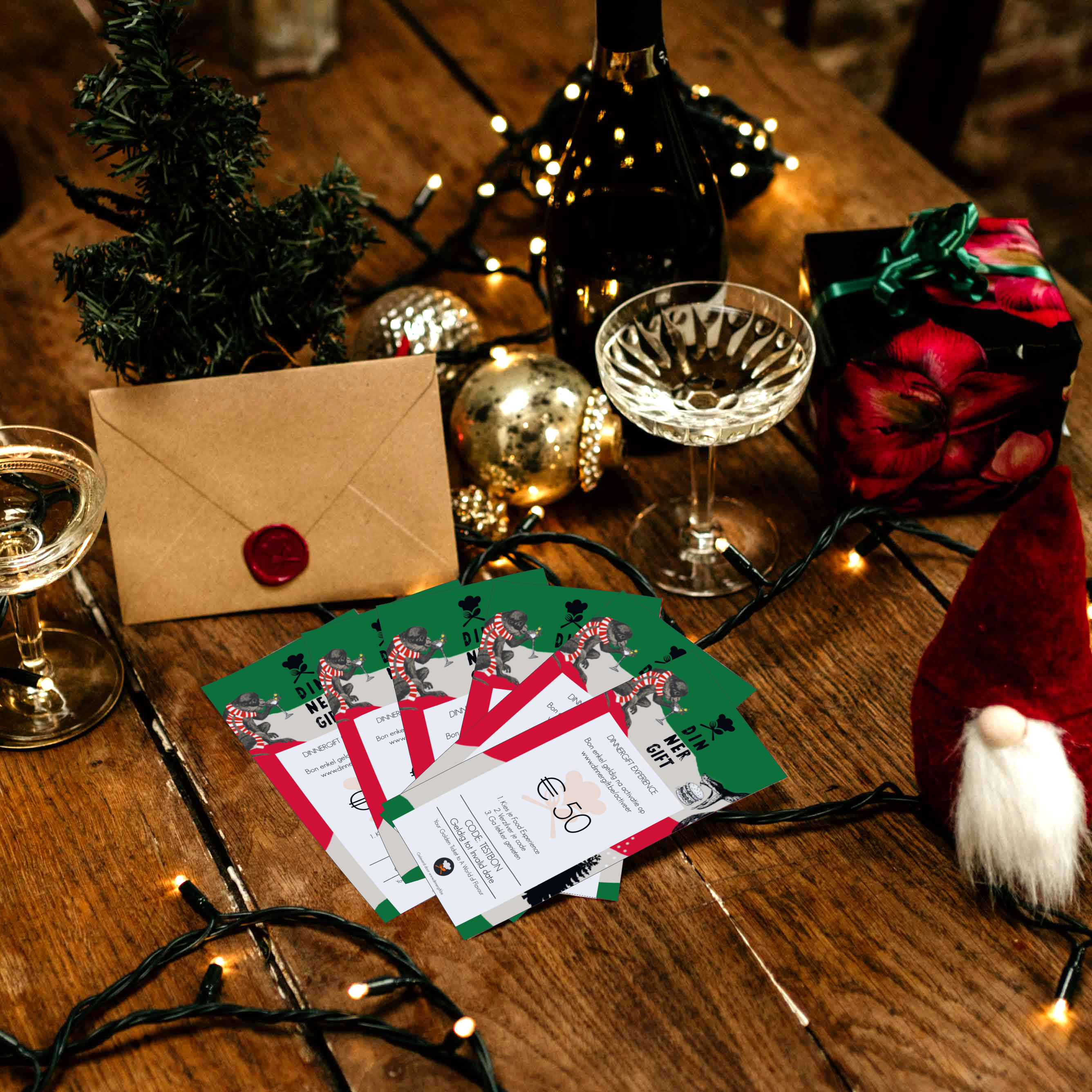 Tip 3: Gift vouchers as an experience
A lot of people dislike giving or receiving gift vouchers. But we believe this reputation isn't justified (shocking, we know). Consider this, though: our planet is groaning under the weight of an economy that stimulates to collect stuff we don't really need. And this harmful tradition worsens around the holidays. With a gift voucher, the receiver can pick something out they really want and won't throw away right after you leave their house.
Moreover, gift vouchers allow you to gift experiences, and what better way to make memories? You can help them experience something new, or something they would never do on their own.
Finally, it can help you out if you're the secret Santa of Susan from accounting or Emily from IT, who already owns every gadget in the book.
Of course, it won't come as a surprise that we especially love gifts our favourite restaurant or an exciting food place we hadn't heard about yet. A great place to find inspiration is the gift voucher selection of the best restaurants on DinnerGift!
The TableFixr app allows you to do a hunt with your friend and see which restaurant the app advises that he/she would like.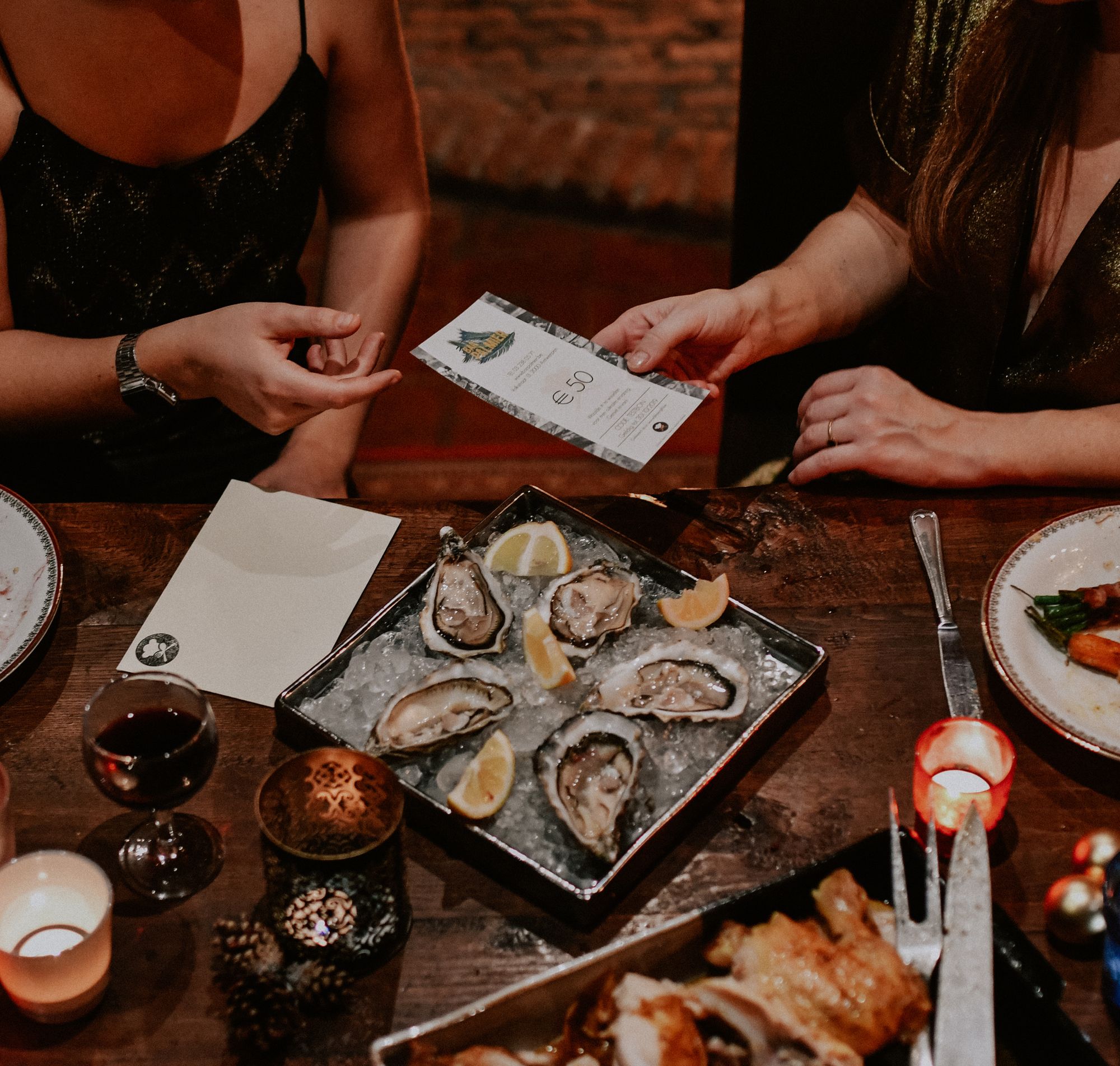 Tip 4: How to make gift vouchers less boring
That said, we hate how gift vouchers can be sooo extremely boring!! Nobody likes receiving an ugly printed out paper in black and white, filled with terms and conditions, and just feels so careless and impersonal. Sure, you may like what you can do with the money but let's be honest, it doesn't make your heart beat faster.
If you put effort in finding out what that person likes and create a good storytelling around it, gift vouchers can be the best present ever.
Plan out a whole day.
Something we love to do at TableFixr and DinnerGift, is to surprise our friends with an entire day of fun activities. We will write on a nice card that we are sending them to a city somewhere, tell them where to have breakfast (and hand a gift voucher with it), which museum to visit, which hidden alley to go to before grabbing lunch at a restaurant that was on their bucket list (including gift voucher), and so on. What better gift than an awesome day for which your friend didn't have to do anything?! Especially if you arranged a babysit, transport, or even an exact date to do it.
Find brands that really put effort in their gift vouchers design
If a gift voucher looks like a little piece of artwork, it goes a long way in making the receiver excited about it. So find a brand that knows how important this part is!
Did you know that DinnerGift designs a personal gift voucher for each of their restaurants? This makes the vouchers pretty and exciting to receive.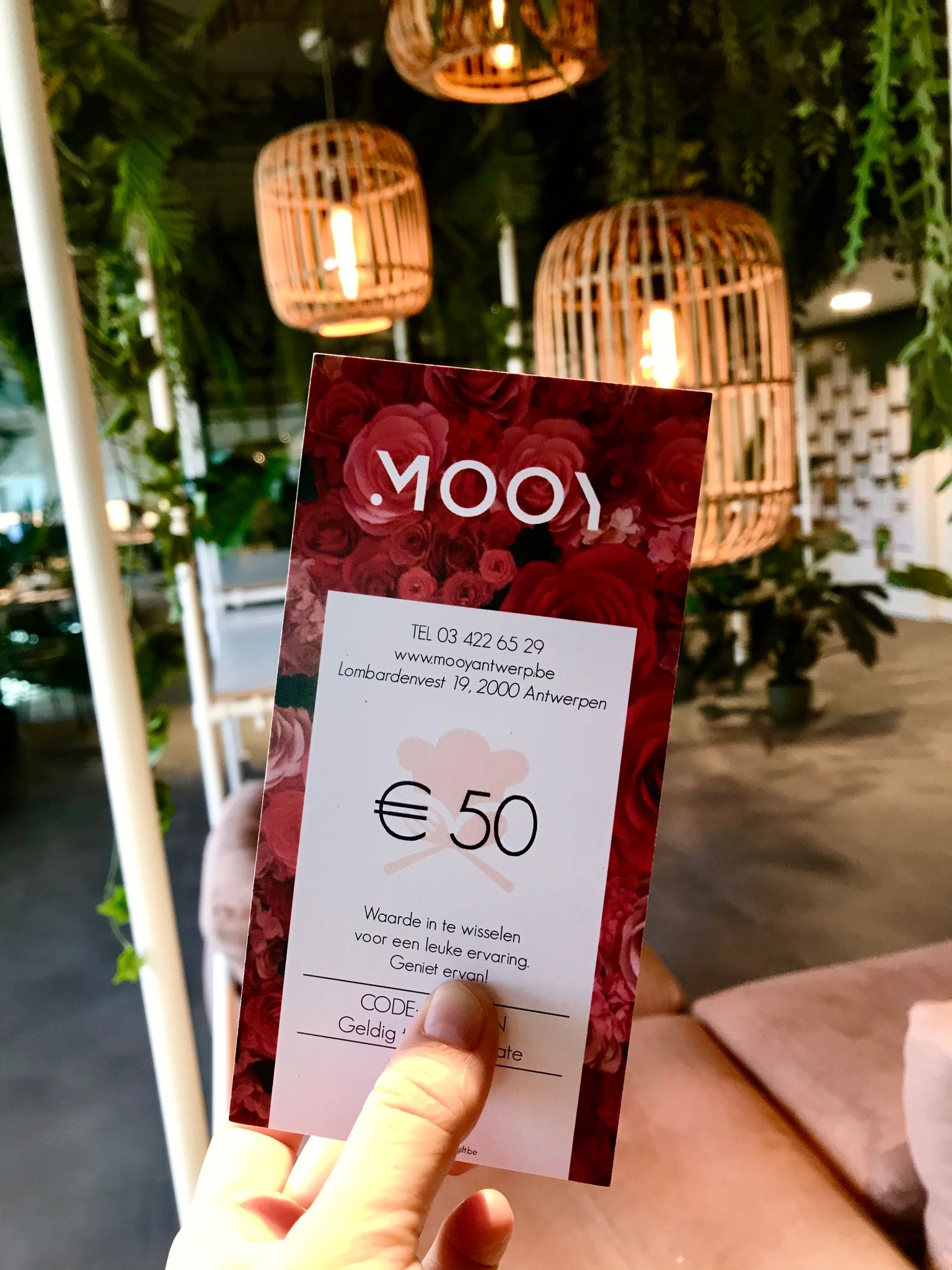 Buy a basket and fill it with inexpensive gifts related to the gift voucher.
But don't just stop with a pretty design! Why not put 90% of your gift budget in the gift voucher and 10% in small gifts to surround it with? If it is a gift voucher for a spa, surround it with affordable bath bombs, facial masks and hand lotion. Or if it's a voucher for that new Italian restaurant everyone is talking about, fill it with some homemade tomato sauce and artisanal pasta.
Not only does it make the gift voucher more attractive, they can also get a sneak (or snack) preview before experiencing the actual gift.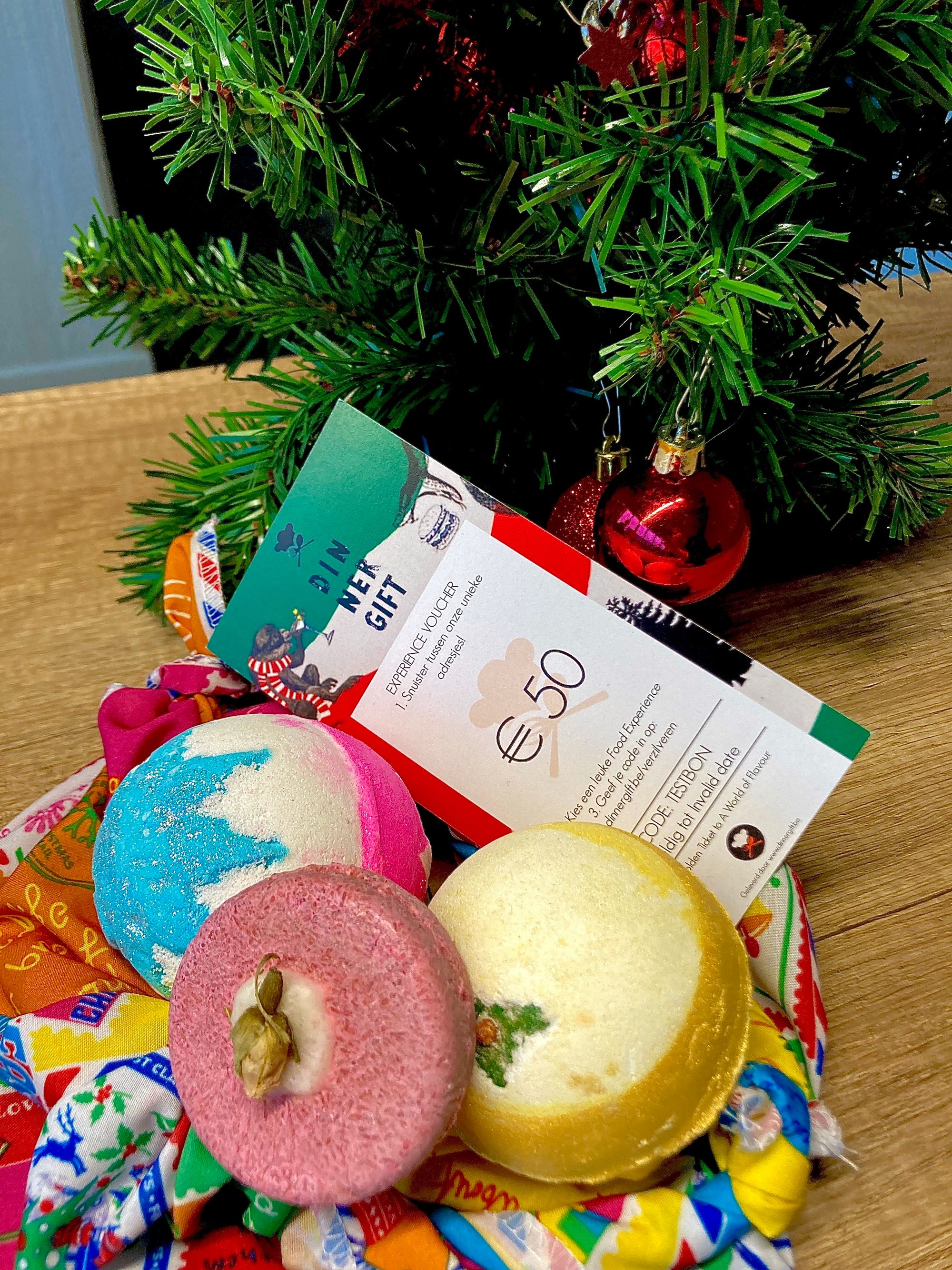 Put the gift voucher in the middle of a (hand-picked) bouquet.
Obviously, hand-picking flowers isn't ideal during Christmas, but think of this tip for your best friend's birthday in spring or summer. Not only does it make it so much more personal, it also doesn't cost you a thing!
But for Christmas, find a local florist or dried flowers and hide your gift voucher in the middle. We promise you, they are going to love the surprise of finding a hidden voucher in such a beautiful wrapping.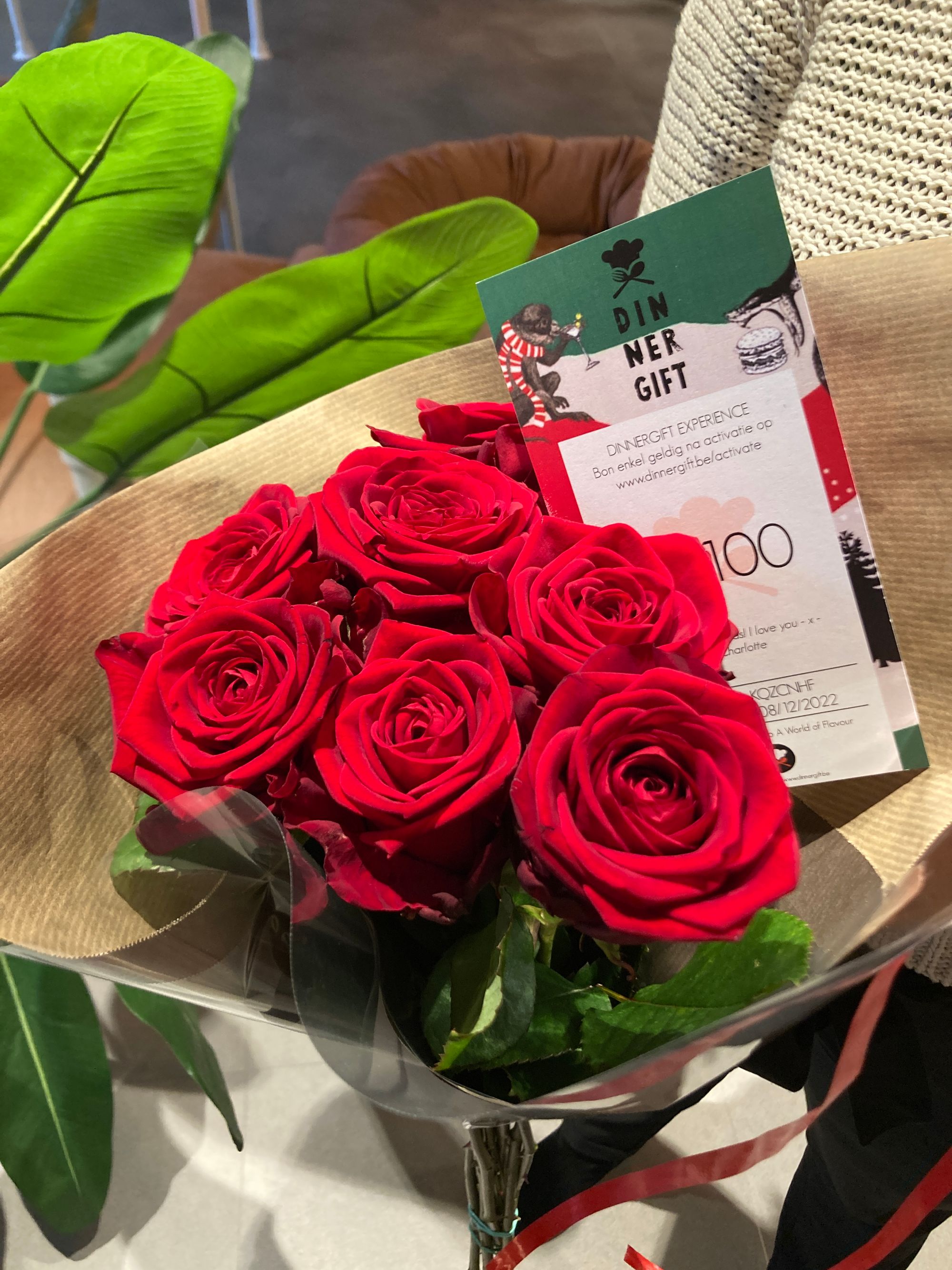 Tip 5: When you didn't get the gift you wanted
When you didn't get the gift you wanted, just remember that the person who gave it to you most likely put a lot of thought in the present. Go start practising your poker face in front of the mirror, so not to break your grandmother's heart. Practice squealing "omg, I love it so much!!" in a recording device until it comes natural.
And when all this is over, you can regift your present to a local second-hand store or a person in need. Just make sure it could be a fun gift for someone else, just not you. Helping out a person in need and keeping your house decluttered. What's not to like?
Secret tip 6: When your partner says "no" to dining out
A secret tip that you can prepare for during the holidays: when your partner says there's no money for dining out, just say you have some gift vouchers left from during Christmas! They can't say no to free food.
Also: buy the gift vouchers yourself, just in case
Click here to learn more about DinnerGift and TableFixr!